Webinar now available on-demand
With the increasing adoption of cancer genomics and the growing need to individualise therapeutic recommendations when treating cancer patients, it is crucial to transform usability and scalability of genomic data for routine oncology clinical practice.

On Tuesday 17 January, Congenica welcomed Professor Andrew Biankin to talk about his experience in transforming cancer care by use of genomic testing.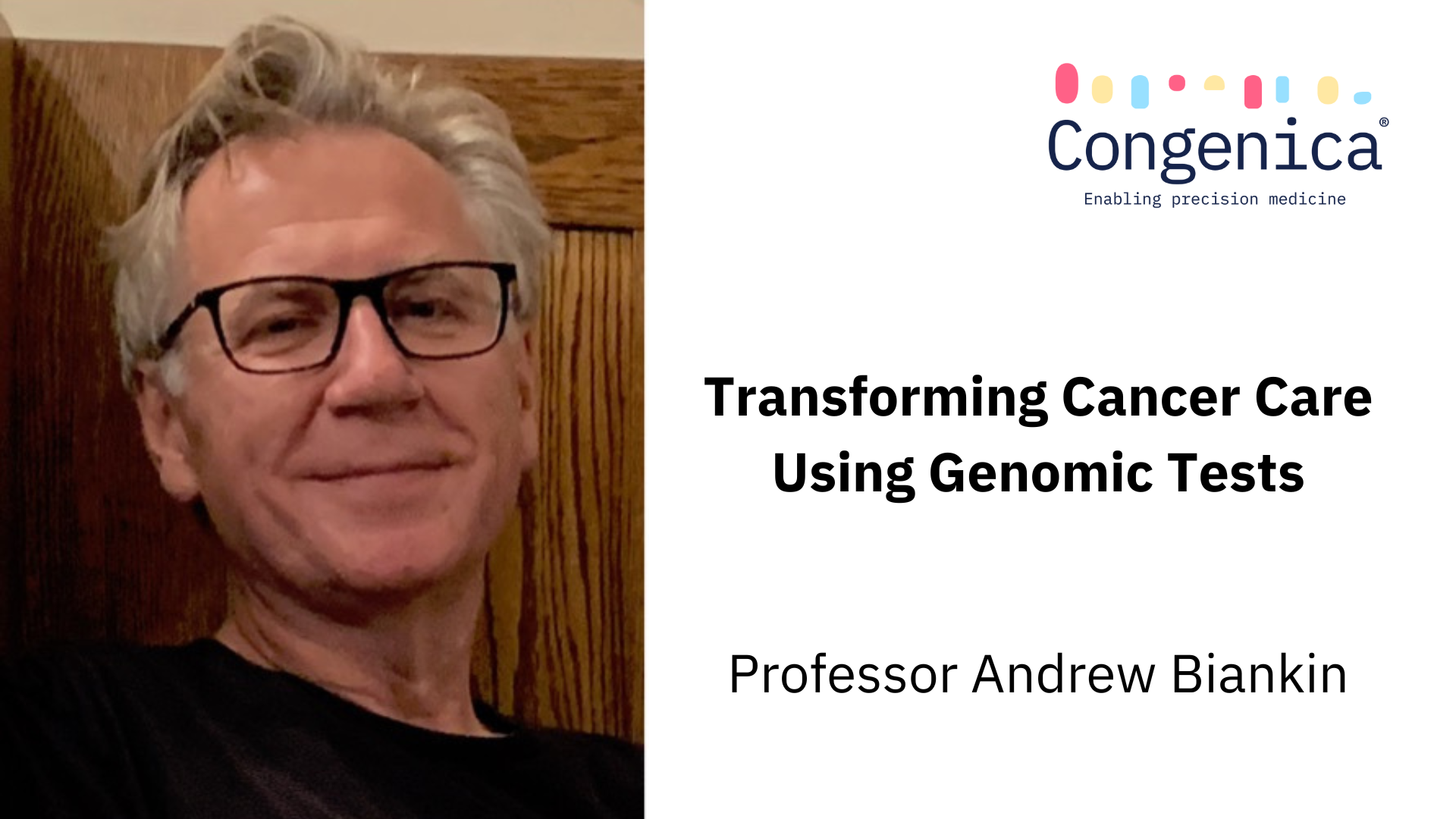 Webinar synopsis
With precision medicine becoming more widely accessible, the time has come to change the way we treat cancer. While anti-cancer drugs can work well in some cases, "one drug fits all" and "trial and error" approaches are often failing. By continuing to use these approaches, we will not be able to predict ahead of time who will benefit from the treatment, leaving it to trial and error at great financial and emotional cost.
One of the main challenges of recommending suitable treatment options to cancer patients is the fact that the genetic make-up of cancers can be very different, even though biopsies may look similar under a microscope. By using NGS-based approaches, treatment options can be tailored to an individual's genomic cancer profile, and the development of resistance to specific drugs can be monitored. NGS-based approaches also offer the possibility to test for larger numbers of genes simultaneously, rather than testing for mutations in single genes at a time. This not only accelerates the assessment of combinatory treatment options, but also significantly reduces emotional costs as well as costs to healthcare providers.
The simple concept of testing every cancer for known cancer genes, coupled with the ability of testing hundreds of cancer patients simultaneously by use of NGS-based approaches and automated data analysis and interpretation, will allow us to rapidly and cost-effectively provide personalised treatments to every patient, accelerate access to clinical trials and enable new treatments to be developed faster and more efficiently.
---
Register for the webinar
Speaker
Professor Andrew Biankin is the Regius Chair of Surgery at the University of Glasgow, a Cancer Research UK Clinician Scientist, a Wellcome Trust Senior Investigator, a Fellow of the Royal Society of Edinburgh and the Academy of Medical Sciences. He is the Director of the Wolfson Wohl Cancer Research Centre which is focused on precision oncology and established the Glasgow Precision Oncology Laboratory which he directs. He holds various leadership roles in national and international consortia in cancer genomics and therapeutic development including the Chair of Precision-Panc and Executive Director of the International Cancer Genome Consortium. He has authored over 200 articles in major journals including seminal works on cancer, genomics and precision medicine.