The UK is widely recognised as a global leader in embedding genomics in healthcare, yet challenges remain in rolling out genomics in a clinical setting. On Thursday 16th February, 2023, three experts came together for a webinar to explore how we can leverage genomics to improve cancer care for better patient outcomes.
Agenda
Utility of Genomic testing in cancer – George Burghel, Consultant Clinical Scientist – Deputy Lead of Cancer Genomics, Manchester University NHS Foundation Trust, North West Genomic Laboratory Hub

The art of genomic winnowing - Automation of somatic driver annotation to increase throughput and enhance patient access to complex genomic analysis – Philip Beer, Chair, BIVDA Genomics Working Group

How genomics can help the haematologist – Angela Hamblin, Clinical Lead of Haematological Oncology, NHS Central and South Genomic Laboratory Hub.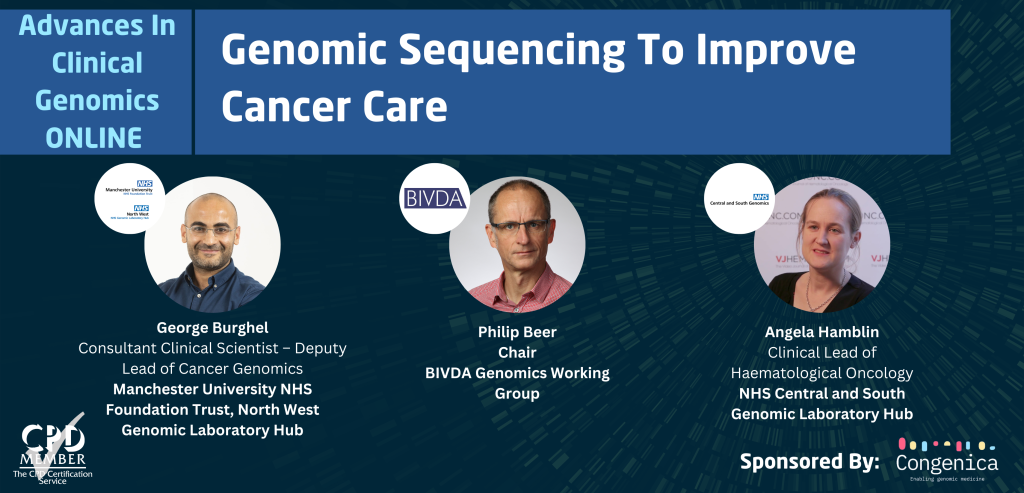 Advances in Clinical Genomics ONLINE, is a 3-part webinar series run by FrontLine Genomics to cover the advances in genomics in clinical practice now and in the future.
---
Watch the webinar