Congenica
founders celebrate a decade of
life-changing answers
Ten years ago, a group of experts came together to realise a shared vision – that every patient should be afforded the benefits of next-generation sequencing (NGS). Combining business expertise with research from the Wellcome Trust Sanger Institute, NHS clinicians and genetic testing laboratories, Congenica was born.​
​
On 23rd May 2023, as Congenica celebrates its first decade in business, we welcomed four of our founders and our CEO to a very special webinar focusing on their work over the past ten years. From major breakthrough projects and development of new genetic technologies, to how these translate into clinical applications and are transforming healthcare practices, the speakers have helped to deliver life-changing benefits to patients around the world. ​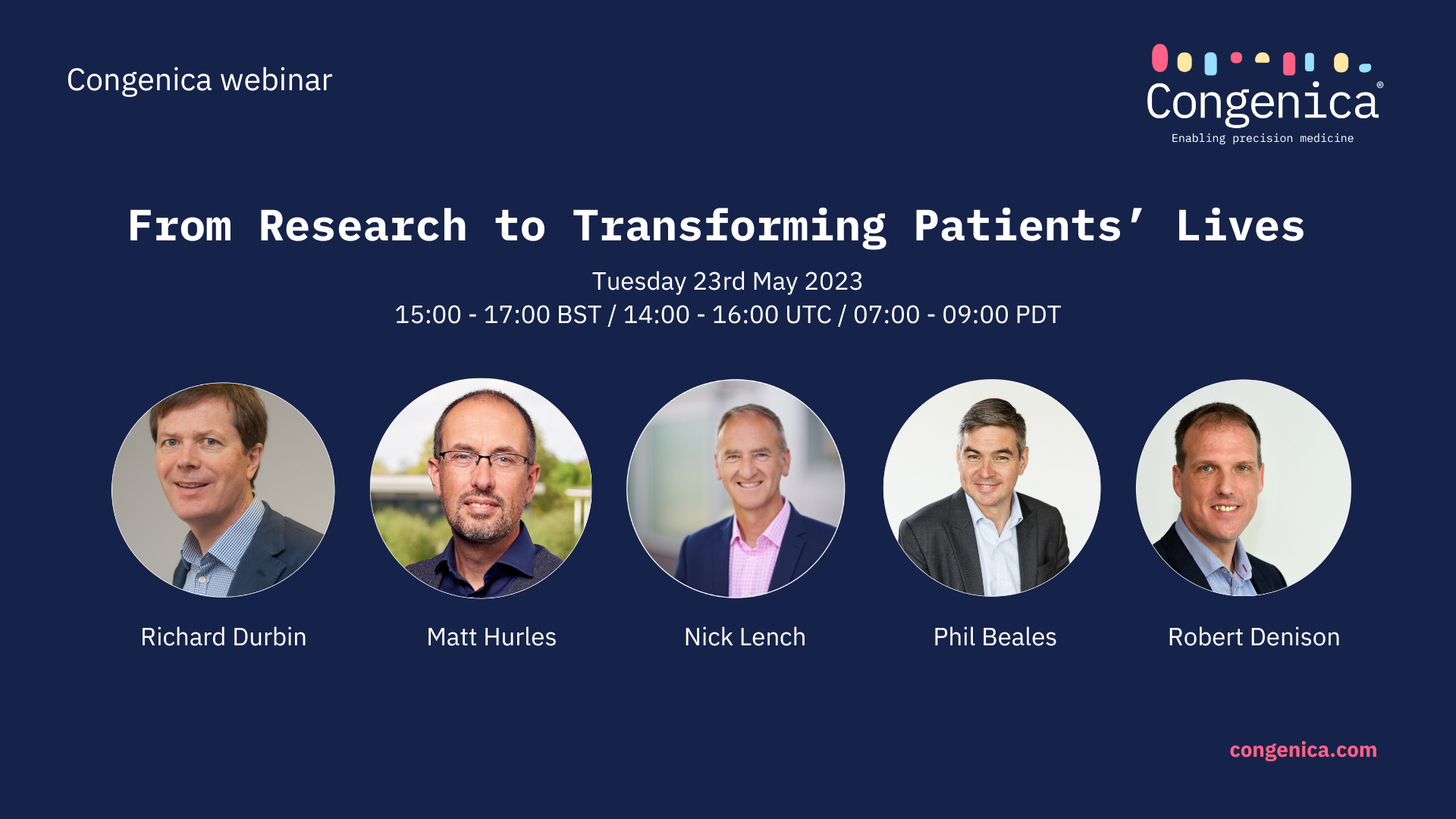 Register to receive a recording of our celebratory webinar that covered some of the significant achievements of the past 10 years and how these are helping to drive precision medicine at scale.
Agenda
From 1000 Genomes to UK10K: The power and challenges of large-scale national programs


Professor Richard Durbin

, Professor of Genetics at

University of Cambridge and Informatics Director at Congenica


Sign up to watch Richard's session here​


Deciphering Developmental Disorders


Professor Matt Hurles

,

Director of the Wellcome Sanger Institute and Scientific Director at Congenica


Sign up to watch Matt's session here​


​

​

Transforming Lives and Healthcare


Professor Phil Beales

, CEO at

Axovia

Therapeutics and Chief Medical Officer at Congenica


Sign up to watch Phil's session here​
Ending the diagnostic odyssey - where next? Navigating the translational roadmap towards new therapies for rare diseases


Professor Nick Lench

,

Executive Director, MRC/UKRI NATA and member of

Congenica's

Scientific

Advisory Board


Sign up to watch Nick's session here​​





Driving Precision Medicine at Scale


Robert Denison

, CEO at Congenica


Sign up to watch Rob's session here​
---