Webinar now available on-demand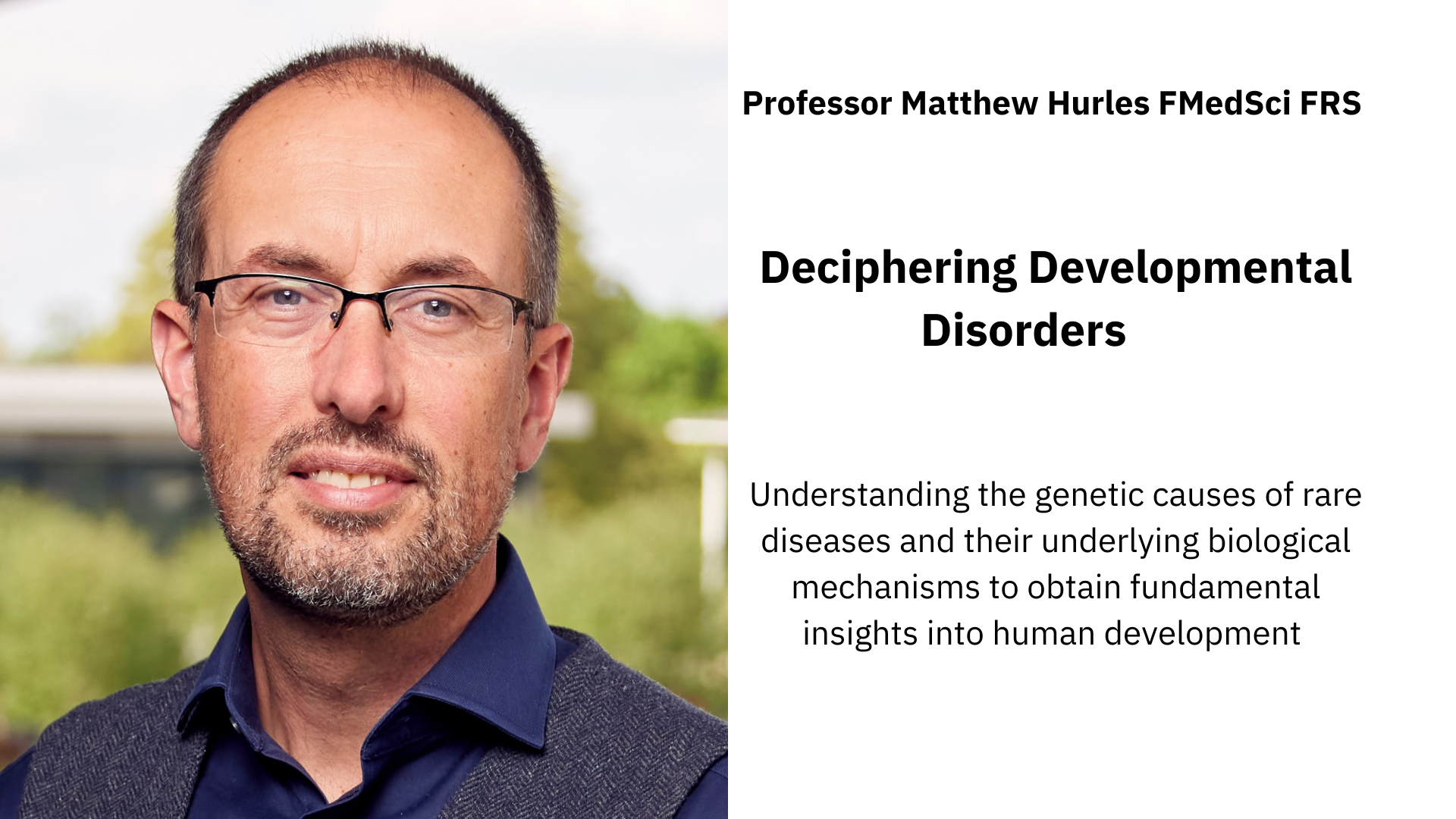 Accurately diagnosing patients with rare genetic conditions remains challenging as many of these patients harbour genomic variants that are extremely rare or even novel. In order to provide a greater certainty of the pathogenic nature of these variants, facilitate clinical interpretation and obtain insights into the underlying biological mechanisms of the disease, it is crucial to identify patients that share these variants and associated phenotypes.
This need has led to the development of the DECIPHER database, as well as the Deciphering Developmental Disorders (DDD) Study, a collaboration between 14,000 families with children with severe, undiagnosed developmental disorders, all 24 clinical genetic centres in the UK and Ireland, and the Wellcome Sanger Institute.
In this on-demand webinar, Professor Matthew Hurles covers:
The UK-wide Deciphering Developmental Disorders study, focusing on:

exome sequencing of parent-offspring trios

clinical interpretation workflow

what factors influence diagnostic yield

discovery of novel disorders

An overview of the UK-wide Prenatal anomalies (PAGE) study

The DECIPHER web portal to improve variant interpretation

And the future of variant interpretation, inclusion of large-scale functional data.
---
View the webinar
Professor Matthew Hurles FMedSci FRS
Matt Hurles established his research group at the Wellcome Sanger Institute in 2003 and in 2017 became Head of the Human Genetics programme. From 2003-2011, Matt led major initiatives to characterise structural variation in the human genome and integrate this knowledge into disease and population genetic studies. His current research interests are in the genetic causes of severe developmental disorders, and the causes of variation in germline mutation rates. His group also generates and characterises cellular and animal models of developmental disorders, to understand pathophysiological mechanisms and identify therapeutic opportunities.
Matt is the principal investigator of the Deciphering Developmental Disorders and Prenatal Assessment of Genomes and Exomes projects. He is the scientific lead of DECIPHER, which is driving open data sharing to improve genetic diagnostic interpretation. He co-founded a start-up company, Congenica Ltd, to develop software to provide sustainable genetic diagnostic services to healthcare providers.
Matt is currently the co-chair of the Atlas of Variant Effects Alliance. He gave the Genetics Society Balfour Lecture in 2009 and the Royal Society Crick Lecture in 2013. In 2017, he was elected as a Fellow of the Academy of Medical Sciences, and in 2019, he was elected as a Fellow of the Royal Society. In 2021, he was elected as a member of EMBO. Matt is a strategic advisor on genomics to Medical Research Council, the UK Government Office of Life Sciences, UK Biobank and Genomics England.